Volunteer Opportunities for NCBA Members
School and club presentations
Please contact outreach coordinator if you need display material or brochures for your programs. (programdirector@nocobees.org) Also please let us know if you do a presentation on behalf of NCBA so it can be put into our outreach files for the future.
We are looking for volunteer members who would supply frames of bees with a queen and honey to be used in our second new Observation Hive. This can be borrowed by members for programs and it is needed for events and the County Fair.
Call for used hive bottom boards, tops, tools, and veils and kids bee suits/gloves:
Needed for interactive education programs. Please contact outreach coordinator for pick-up or rendezvous at the NCBA Storage Unit in Loveland.
If you would like to volunteer, please click on the sign up! button below.
Events Needing Volunteer Support
Any one who would like to help with these events or get more information, please contact NCBA Program Director – programdirector@nocobees.org
To see what events you can volunteer for, click the button.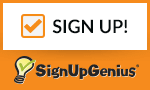 Anyone can be a presenter in our Volunteer programs. Lisa Boesen has made a great little video to help you. We get many requests from schools to have someone come in and speak about beekeeping, but not enough volunteers to fulfill the need. We hope this video helps you with wanting to be a NCBA volunteer presenter.
Thank You